From PhD Dr. Kathrin Bieri, Head of Science at Bodygee
In my last article, I introduced you to the most important methods of determining body fat. I explained that different measurement methods can lead to different results, and that reliability is a main quality criterion. Today, I would like to explain what you need to pay attention to when interpreting your own body fat percentage.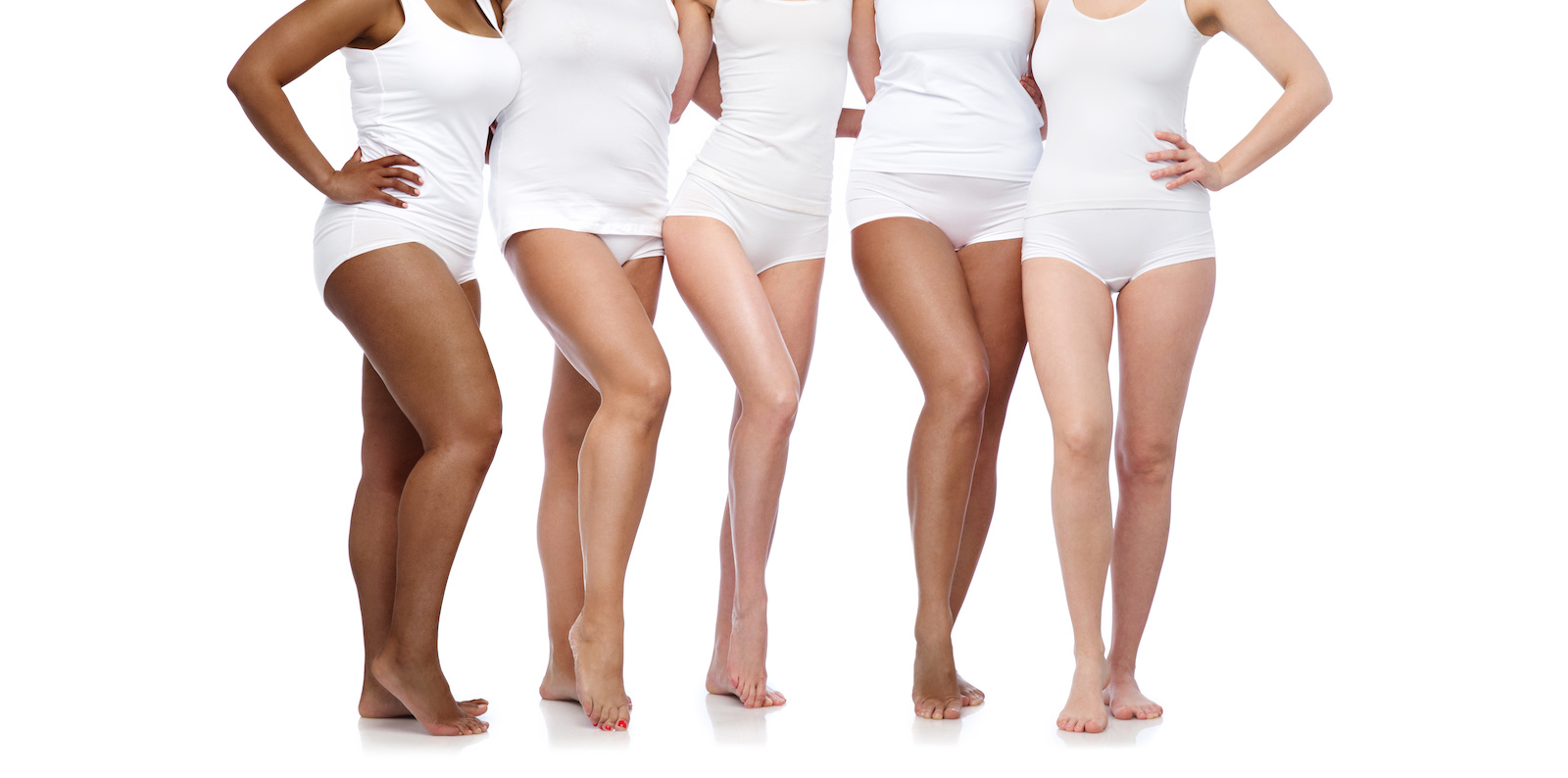 Each Body is Different
To begin with, you must understand that each body – with its individual shape and curves – is unique. The appearance is determined by a variety of factors; not only by exercise and nutrition, but also by physical development and genetic predisposition. Therefore, it is not surprising that individuals with the same body fat percentage can appear completely different. So, how can the body fat percentage be classified? Is it of any use to compare it with that of other individuals?
Body Fat Proportion and Fitness Level
People with the same amount of body fat can have (very!) different levels of fitness, because the fitness level is dependent on various physical factors, such as the number of red blood cells or the composition of the muscle fibre. If you want to determine your exact level of fitness, it is advisable to have specific tests carried out (e.g. a maximum strength test, a maximum oxygen uptake test "VO2 max test"). At this stage, we would like to advise against fitness-related classifications of body fat, such as "athletic", "fit", "average" and "poor". They can result in a false self-image or even a feeling of disbelief and frustration. You should also not fall into the trap of comparing your own percentage of body fat with that of other people. It makes much more sense to compare it with your own results – i.e. to check the progress before and after a specific exercise or nutrition programme.
Body Fat Percentage and State of Health
A very low percentage of body fat poses a health risk, due to a possible undersupply, which can lead to a situation in which not all of the bodily functions can be sustained. A very high percentage of body fat also poses a health risk. In this case, metabolic disorders and problems with the musculoskeletal system can lead to disease. This knowledge has been gained by means of scientific studies, in which thousands of people have been screened for health risks. In this sense, the interpretation of your own body fat percentage, with the support of a classification, is most appropriate. If the body fat content is not within the "healthy" range, medical examinations are advisable, in order to assess the overall health risk.
What is "normal"? An Evidence-based Classification
A scientifically determined, healthy normal range is a meaningful aid to interprete body fat; rather than simply classifying it as "good" or "poor". Therefore, we decided to implement a new, evidence-based classification in the Bodygee system. We refer to the widely recognised research, conducted by Gallagher et al., which was published in 2000. In this study, more than a thousand people were analysed and a method of body fat classification was established, based on the regression analysis of gender, age, ethnicity and BMI. The "normal range" defines a "healthy" body fat percentage, which is characterised neither by an increased risk of disease nor of an increased danger of mortality.
Therefore, the classification tables used in the Bodygee system are based on this scientific study*:
Body fat classification men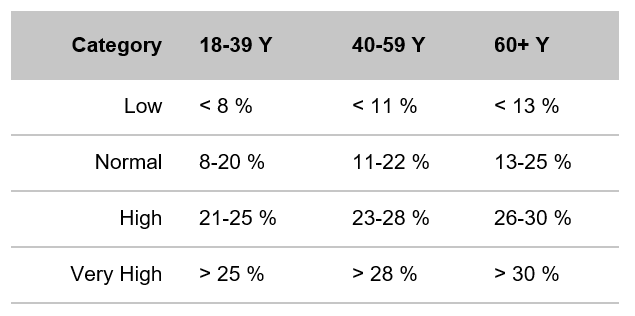 Body fat classification women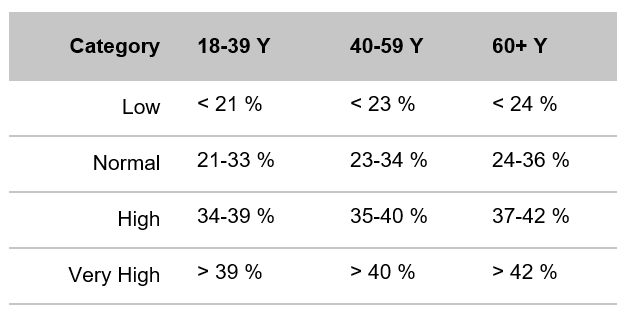 *Gallagher D, Heymsfield SB, Heo M, Jebb SA, Murgatroyd PR, Sakamoto Y (2000) Healthy percentage body fat ranges: an approach for developing guidelines based on body mass index. Am J Clin Nutr 72:694-701
Kathrin Bieri from Switzerland studied Sports Science and graduated from the University of Berne with a Doctorate in Sports Medicine. She is a passionate sportswoman herself and spends several evenings at the gym every week.
Wie du deinen Körperfettanteil interpretierst
Von PhD Dr. Kathrin Bieri, Head of Science bei Bodygee
Der Körperfettanteil – immer wieder ist dieses Körpereigenschaft bei unseren Kunden im Mittelpunkt. In meinem letzten Beitrag habe ich dir die wichtigsten Methoden zur Körperfettbestimmung vorgestellt. Ich habe dir erklärt, dass unterschiedliche Messmethoden zu unterschiedlichen Resultaten führen können und die Wiederholbarkeit das zentrale Gütekriterium darstellt. Heute möchte ich dir erklären, worauf du bei der Interpretation von deinem Körperfettanteil achten sollst.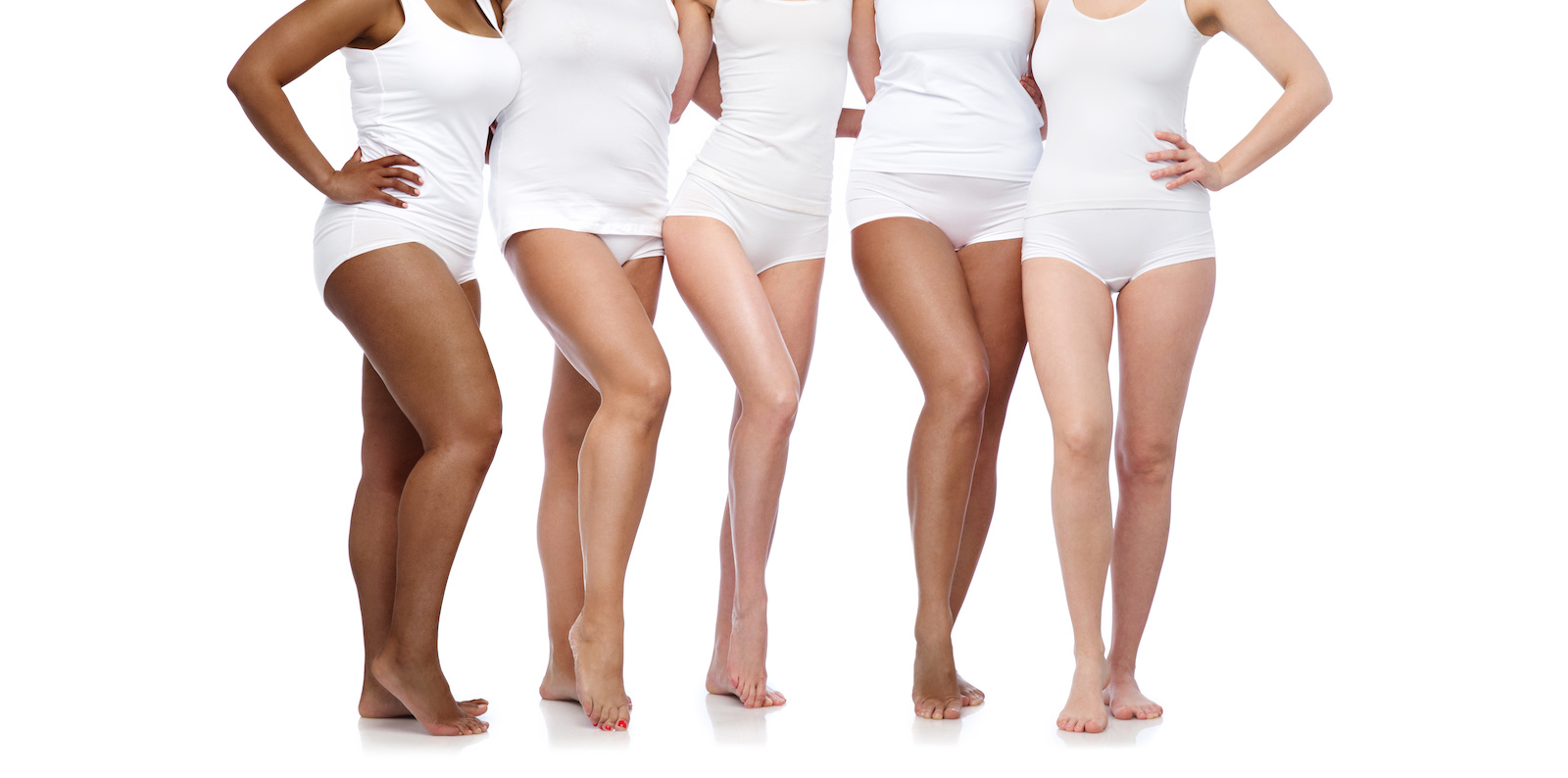 Jeder Körper ist ein Unikat
Zuerst musst du dir bewusst werden, dass jeder Körper – mit seiner individuellen Form und Füllung – nur einmal vorkommt. Das Erscheinungsbild ist durch eine Vielzahl von Faktoren determiniert; nicht nur Training und Ernährung, sondern auch die körperliche Entwicklung und genetische Veranlagung spielen eine Rolle. So mag es nicht erstaunen, dass Individuen mit demselben Körperfettanteil ganz unterschiedlich aussehen können. Wie lässt sich der Körperfettanteil nun einordnen? Ist ein Vergleich mit anderen Individuen überhaupt sinnvoll?
Körperfettanteil und Fitnesslevel
Menschen mit gleichem Körperfettanteil können (sehr!) unterschiedlich fit sein. Denn das Fitnesslevel hängt von verschiedenen körperlichen Faktoren wie beispielsweise der Anzahl roter Blutkörperchen oder der Muskelfaserzusammensetzung ab. Möchtest du deinen Fitnesszustand genau ermitteln, ist es ratsam, spezifische Tests (z.B. Maximalkrafttest, Test der maximalen Sauerstoffaufnahme "VO2max-Test") durchzuführen. Von fitnessbezogenen Klassifizierungen des Körperfettanteils wie beispielsweise "athletisch", "fit", "durchschnittlich" und "schlecht" möchten wir an dieser Stelle abraten. Sie können ein falsches Selbstbild oder sogar Unglauben und Frustration hervorrufen. Ebenfalls ist vom Vergleich des eigenen Körperfettanteils mit Kolleginnen oder Kollegen abzusehen. Viel sinnvoller ist der Vergleich mit sich selbst – also die Verlaufskontrolle vor und nach einem spezifischen Trainings- oder Ernährungsprogramm.
Körperfettanteil und Gesundheitszustand
Ein sehr niedriger Körperfettanteil birgt ein Gesundheitsrisiko aufgrund möglicher Unterversorgung, die dazu führen kann, dass nicht mehr alle Körperfunktionen aufrecht erhalten werden können. Ein sehr hoher Körperfettanteil birgt ebenfalls ein Gesundheitsrisiko. Hier sind es vor allem Stoffwechselstörungen und Probleme am Bewegungsapparat, die zu Erkrankungen führen können. Dieses Wissen konnte mittels wissenschaftlichen Studien ermittelt werden, in denen tausende von Menschen auf gesundheitliche Risiken hin untersucht wurden. In diesem Sinne ist nun auch die Interpretation des eigenen Körperfettanteils mit Hilfe einer Klassifizierung angebracht. Liegt der Körperfettanteil nicht im "gesunden" Bereich, sind ärztliche Abklärungen ratsam, um das Gesundheitsrisiko gesamthaft zu beurteilen.
Was ist "normal"? Eine evidenzbasierte Klassifizierung
Nicht die Einteilung in "gut" und "schlecht", sondern ein wissenschaftlich ermittelter, gesunder Normalbereich des Körperfettanteils ist eine sinnvolle Interpretationshilfe . Aus diesem Grund haben wir uns entschieden, im Bodygee-System eine neue, evidenzbasierte Klassifizierung einzuführen. Wir beziehen uns auf die Forschungsarbeit von Gallagher et al., die im Jahr 2000 publiziert wurde und weitverbreitet Anerkennung findet. In dieser Studie wurden mehr als tausend Personen analysiert und eine Körperfettklassifikation mittels Regressionsanalyse der Faktoren Geschlecht, Alter, Ethnizität und BMI erstellt. Der "Normalbereich" definiert nun einen "gesunden" Körperfettanteil, der sich weder durch eine erhöhte Krankheits-, noch durch eine erhöhte Sterberate charakterisiert.
Auf dieser wissenschaftlichen Studie* basieren die aktuellen Klassifkationstabellen im Bodygee-System:
Körperfettklassifizierung Männer

Körperfettklassifizierung Frauen

*Gallagher D, Heymsfield SB, Heo M, Jebb SA, Murgatroyd PR, Sakamoto Y (2000) Healthy percentage body fat ranges: an approach for developing guidelines based on body mass index. Am J Clin Nutr 72:694-701
Kathrin Bieri stammt aus der Schweiz, hat Sportwissenschaften studiert und an der Universität Bern im Bereich Sportmedizin promoviert. Sie ist selbst begeisterte Sportlerin und verbringt mehrmals pro Woche einen Abend im Fitnessstudio.